Hire With a Values-Based Approach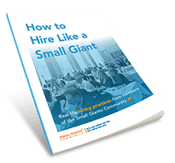 Great people make a great company. But sometimes finding the right people can seem almost impossible. The difference between a decent hire and the right hire can impact your company's culture, your productivity and your bottom line.
It is possible to develop a hiring process that dramatically improves your pool of candidates and your hiring decisions. Our eBook How to Hire Like a Small Giant gives you everything you need to develop an efficient and effective hiring plan.
Learn the four stages of a successful hiring process
Discover proven best practices that Small Giants Community members have implemented in their own companies
Start thinking strategically about your next hire
Make your next hire your best hire yet!
Fill out the form to get your eBook.