Ready to go on a journey like no other?
THE LEADERSHIP EXPERIENCE YOU'VE BEEN WAITING FOR We're looking for the next generation of great leaders. Leaders who are driven by their values. Leaders who put their people first. Leaders who believe in the transformative power of a great company culture. Leaders who want to have fun and build thriving companies with a purpose to believe in. If you're a bold, passionate entrepreneur who strives to be a lifelong learner and constantly aims for continuous improvement for your organization, the Small Giants Journey may be for you.
OUR FLAGSHIP OFFERING Leaders of values-driven organizations will embark on a three-year transformative experience, learning alongside an intimate cohort of like-minded leaders. The program works to strengthen a leader's practice of the six qualities of a Small Giant, institutionalizing strategies for growing their organizations with purpose, and results in a Small Giant designation for their company. Our next cohort begins March 6th, 2018!
INTERESTED IN SIGNING UP OR DISCUSSING THIS UNIQUE AND EXCLUSIVE PROGRAM?
READ ON TO DISCOVER MORE ABOUT OUR FLAGSHIP OFFERING.
WHY CHOOSE THE SMALL GIANTS JOURNEY?
Lessons that last. The key principles of the Small Giants philosophy become integrated and institutionalized into your company, guided by hands-on learning with subject-matter Masters (carefully curated expert practitioners and members of the Community) and Journey teachings.
Learn from the best. Expert practitioners, professional partners, and Community Masters become a part of your professional network, allowing you to build relationships and mentorships with those who do it best.
Badge of honor. The Small Giants designation, earned at the end of your three-year Journey, becomes a part of your internal and external brand, attracting top talent and differentiating your company from competitors in the marketplace.
WHAT TO EXPECT
Your journey begins with an assessment. You'll work with the Small Giants team to complete a thorough pre-assessment to evaluate where your company is and where you're headed.
At basecamp, you'll onboard with a Community-led orientation, where you'll learn what to expect, meet your cohort of fellow leaders, and receive the tools you'll need for a successful Journey.
Beyond ongoing, guided learning modules, your three-year Journey also includes six two-day excursions to support each module, occurring twice a year. Excursions take our cohort of leaders on the road for two days to deep-dive into one of our teaching topics, visiting practitioners and learning from members of the Community.
Each excursion will be dedicated to one of the six principles that we've identified as key to building a successful, thriving company that lasts: Purpose, Leadership, Culture, Finances, Customers, and Community.

Curious to see what Module 1: Purpose & Visioning looks like? Check out our blog recap: Purpose & Visioning - Highlights and lessons learned from the Small Giants Journey.

FAQs
Who participates in the Journey? We recommend that two people from each company participate. A founder/CEO and a senior integrator/COO would make a great team to embark on the Journey experience.
How much does it cost? The investment is $10,000/year for up to two participants. This includes the cost of all materials, excursions, and an annual ticket to the Small Giants Summit event. Travel expenses and accommodations not included.
Why does it take three years? The Small Giants Journey is a robust program that requires a long-term commitment. The outcomes of the Journey experience extend beyond quick-fix motivation and ideas — the destination for Journey participants is institutionalized practices and sustainable results that live in their companies long-term.
What kinds of things will I learn? Each module will deep-dive into several teaching topics: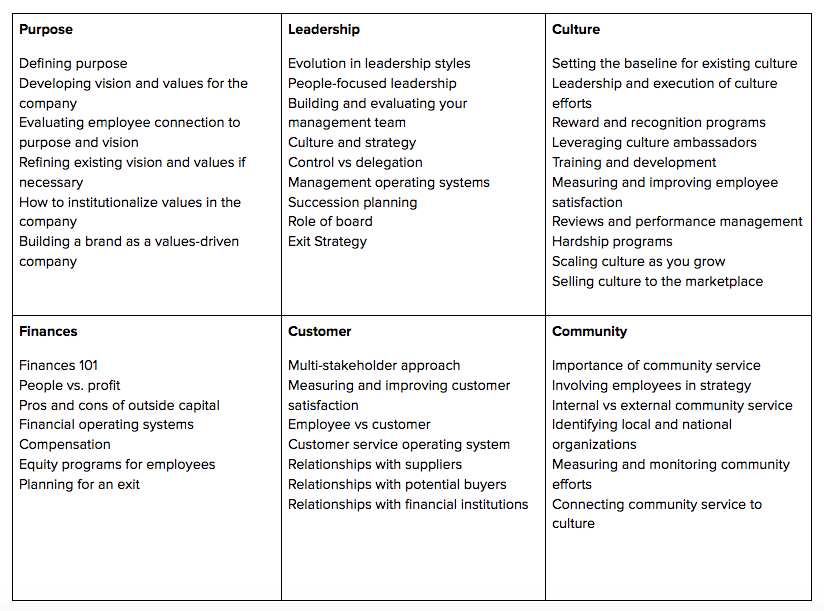 What if we've already "mastered" some of this stuff? The Small Giants philosophy resonates best with those who consider themselves lifelong learners. When we're really honest with ourselves, there's room for improvement in every key practice of a values-driven business. Don't forget: our initial assessment will help us customize your topics of focus and target the areas where you most want to grow.



NOW ARE YOU CONVINCED THAT THE JOURNEY IS RIGHT FOR YOU?

Let us know by filling out the form below to setup a call with us! Still not sure if the Journey is the perfect fit for you? That's OK! Send your questions to hello@smallgiants.org.