Proven Strategies to Steer Your Company Culture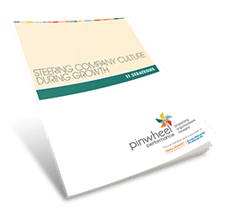 Once a company reaches a certain size, the deterioration of culture is practically inevitable. According to 75% of the CEOs of privately held companies, the hardest thing about managing a growing workforce is maintaining company culture.
Small Giants Member Pinwheel Performance has identified 11 strategies from values-driven companies to successfully steer your company culture during growth. You can get your hands on those strategies in the eBook, Steering Company Culture During Growth.
In this insightful eBook, you'll discover:
Who is the most important culture shaper of your company
Why culture is your most valuable asset
How to make your culture uniquely your own
How to avoid pitfalls along the way
Don't leave your most valuable asset to chance.