Small Giants Summit Sponsorships
PREMIUM TIER (packages listed below)
SUMMIT DESCRIPTION AND THEME: This year's Small Giants Summit is the eighth edition of this event and is meant to be a forum to communicate and share the ideas and values of the Small Giants Community with like-minded entrepreneurs. The theme for this year is "Authenticity." Authenticity is embedded into the very fabric of what makes the Small Giants Community so special – the people. The 2018 Summit will celebrate and deepen our commitment as leaders to showing up authentically – a practice that leads to meaningful conversations, deeper relationships, the sharing of ideas, and ultimately, living out the six qualities of a Small Giant day in and day out. After a successful Summit, small business leaders will have built intimate professional relationships, learned from their peers, and will have learned practical lessons to improve their businesses.
ATTENDEE DEMOGRAPHICS: The Small Giants Summit is designed to support an audience of leaders who…
are founders, executives, or C-suite members of small to medium-sized companies (90% U.S. based).
serve 10 – 400 employees.
lead organizations with annual revenues of $2 million - $200 million (USD).
SUMMIT OVERVIEW AND HIGHLIGHTS
Inspirational Keynotes that motivate, challenge and educate
Round table discussions designed to help you work through issues together with your peers
"Think Tanks" that allow us to brainstorm solutions to problems in real time
Networking that focuses on introducing you to people who are sharing similar challenges
Genuine stories from Small Giants who are willing to share their lessons learned
One-of-a-kind social events with great conversations, unique experiences and a celebration of Forbes America's Best Small Companies
Interested in sponsoring? Fill out this form and we'll be in touch. Or scroll down to see our packages.
PACKAGE OPTIONS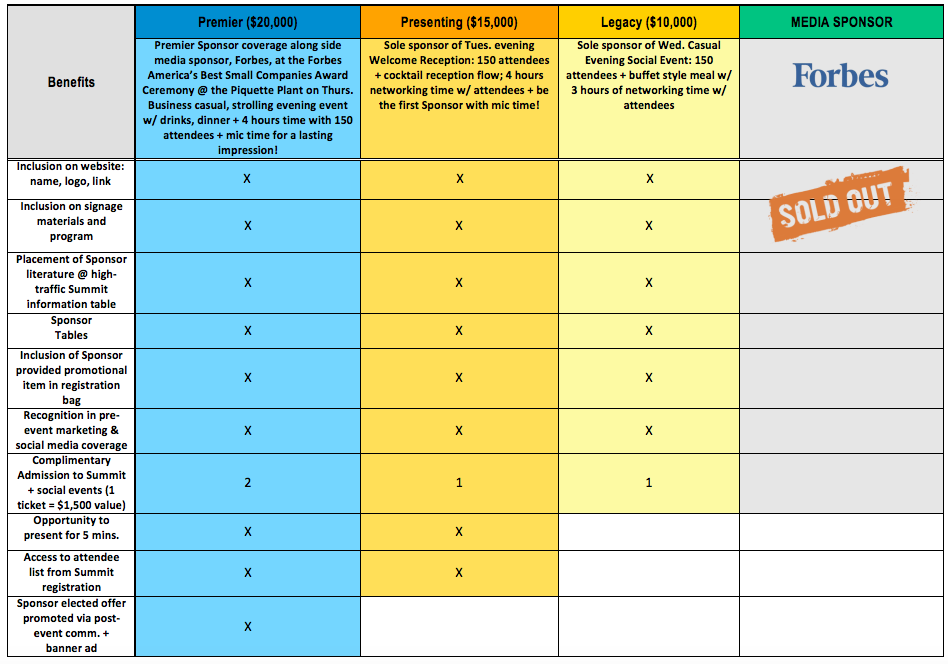 Interested in sponsoring? Fill out this form and we'll be in touch.