Interested in joining a peer group of like-minded leaders?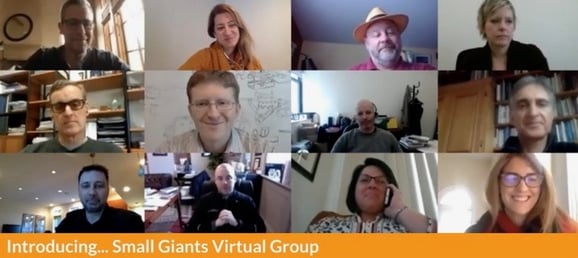 We are looking for passionate leaders to join our virtual groups! The goal of the Small Giants Virtual Groups is to bring together values-driven leaders to cultivate authentic business groups that provide a space for mentorship, shared resources, and connections needed to support and develop themselves and their businesses -- all without having to leave the office!
BY JOINING A VIRTUAL GROUP, YOU WILL:
Enjoy 90 minute monthly meetings with like minded values-driven leaders facilitated by Small Giants Community Founder, Paul Spiegelman
Participate in carefully curated content, discussion topics, practitioner-based stories and resources that will help further you along in your business and challenges
Build strong relationships with a community of fellow Small Giants Leaders across the country
Gain access to national Small Giants Community content, updates, and Spotlight event invitations with special discounts.
Enjoy a personal login to smallgiants.org to explore past-recorded events and dive into our membership directory.
WHAT IS THE COST?
WHY SMALL GIANTS AS MY PROFESSIONAL GROUP OF CHOICE?
You can trust that the Small Giants Local groups are like no other professional group in that we're 100% practitioner-focused, open to feedback, and encourage an environment of open and honest sharing, support and authenticity.
You will develop strong relationships with like-minded leaders of values-driven companies across the country.
Form life-long relationships with leaders willing to share their stories and best practices openly with the group.
"The Small Giants Virtual Group is one of the best investments I've made as a values-driven business owner. Each session is a chance to be surrounded by like-minded folks from across the country who inspire me and challenge me to be a better leader in my company and community - all without leaving my office."
"Over the years I've been a member of several CEO-peer advisory groups. And, I'm a firm believer in the value they provide. What makes Small Giants substantially different (and more valuable) is that there's a baked-in alignment on values. We're all focused on building something bigger than ourselves, and that selflessness translates into meaningful advice and strategies I can use right away. For the Values-Driven leader, there's really nothing that compares."